____________________________________________________________________
This is not an exhaustive list, of course: rather a few ideas of where to put visiting family and friends up! If you have anywhere else you would like to recommend, let me know at harriet@homeinleiden.nl .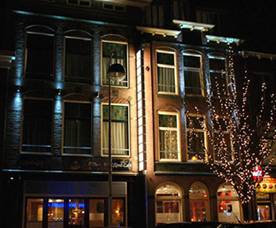 Nieuwe Beestenmarkt 10
2312 CH Leiden
Tel: 071 5144233
Email: info@rembrandthotel.nl
Website: www.rembrandthotel.nl
Price

Single occupancy from € 80 per room
Double occupancy from € 96 per room
Breakfast buffet (excellent) extra ( € 12.50 per person)
This lovely hotel has just opened and has 20 rooms and is the only hotel in central Leiden with a lift and proper disabled access. Its situation in the rather run-down area of the Beestenmarkt, flanked by many fast food and other restaurants, should not put you off, as it is shiny new inside and the proprietors are very nice people very eager to please. Occasional teething problems due to its recent opening, but in my opinion the best hotel to put visitors up in. Nice bar and restaurant downstairs with excellent food.
A reviewer says: "I hosted a party in summer 2010 with about thirty people - in about twelve couples/groups - visiting Leiden from abroad, and put them all up in the Rembrandt Hotel. The hotel were really great on all counts; blocked the rooms for us months ahead; flexible when guests were added / pulled out, putting in extra (child) beds, that kind of thing, and with a bit of haggling gave us a group discount too. We had a dinner there one night, for which we could basically choose whatever food/wine we wanted. With this they were also very helpful, drawing up a delicious menu and giving us a wine-tasting evening beforehand (hic!), and the dinner itself was excellent and very good value for money. Although there's no hotel parking, the Haagweg car park and shuttle work fine, and all my visitors found the city centre location wonderful. Can't be faulted!' Alice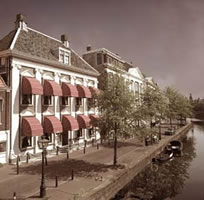 Hotel de Doelen
Rapenburg 2
2311 EV Leiden
Tel: 071-5120527
Email: hotel@dedoelen.com
Website: www.hoteldedoelen.com
Price

Single occupancy from € 85 per room to € 105 per room
Double occupancy from € 105 per room to € 135 per room
Breakfast buffet (ok but not great) extra ( € 7.50 per person)
This is a family run hotel in a beautiful grand old house on the Rapenburg canal, near the station end of Breestraat. The rooms vary from enormous to tiny, and have character, and are rather unconventionally furnished. Some of the smaller rooms upstairs feel rather untidy and unloved, so it is not a hotel for people who require modern minimalism. Many of the rooms are a long way up steep stairs, so do be aware of this when booking rooms for people with mobility issues or small children as there are some rooms available on the ground floor. However, since there are steps up to the front door the hotel itself is not really accessible for wheelchairs or pushchairs.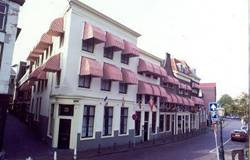 Hotel Nieuw Minerva
Boommarkt 23
2311 EA Leiden
Tel: 071- 5126358
Email: hotel@nieuwminerva.nl
Website: www.nieuwminerva.nl
Price
Single occupancy from € 83 per room to € 168 per room
Double occupancy from 116 to 198 per room
Rooms sleeping up to 4 people also available at good value. Also themed rooms
Breakfast included
This is a nice hotel located very centrally along from V&D. There is a very wide range of rooms - including themed rooms, some of which are quite bizarre but a fun idea. Some of the rooms are up a lot of stairs, no lift. The rooms to be shared by 4 people work out at good value and are a good option for visiting friends who don't mind bunking up!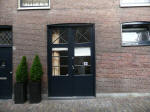 Beschuitsteeg 10 - 12a
2312 JV Leiden
Tel: 071 5123292
Mob: 06 44862220
Email: info@bedenbeschuit.nl
Website: www.bedenbeschuit.nl
Price

One night is € 95,- for 2 people and € 80 for one person (includes tax and breakfast)

For each subsequent night, guest receive a € 5 discount and after four nights you receive a 10% discount.
This is a really lovely B&B right in the centre of town. The ground floor apartment is really beautifully and originally furnished and extremely comfortable. There is also an apartment on the 1 st floor, as well. All the necessary things for a simple but nice breakfast are in the apartment already.
Do also take a look at www.bedandbreakfast.nl for the listings in Leiden.