____________________________________________________________________


B plus C: Bibliotheek plus Centrum voor kunst en cultuur (Library plus Centre for art and culture'.
Central location
Address: Nieuwstraat 4, 2312 KB Leiden
Tel: 071 5161627
Email: centrum@BplusC.nl
Open: Mon, Tues, Wed, Fri 10:00-18:00, Thurs 10.00-21.00, Sat 10.00-17.00. No longer open on Sundays .
Other locations
Leiderdorp

Address: van Diepeningenlaan 110, 2352 KA Leiderdorp
Tel. 071 5890849
Email: leiderdorp@BplusC.nl

Open: Mon-Wed 13.30-17.00
Thurs 10.30-12.30 and 13.30-17.00
Fri 13.30-17.00 and 18.00-20.00
Sat 10.30-12.30

Stevenshof

Address: Twix Terwindtstraat 6, 2331 GW Leiden
Tel.071 5318100
Email: stevenshof@BplusC.nl

Open: Mon 13.30-19.00, Tues-Sat 10.30-12.30 and 13.30-17.00, Sat 10.30-12.30

Merenwijk

Address: Rosmolen 4, 2317 SJ Leiden
Tel: 071 5211666
Email: merenwijk@BplusC.nl

Open: Mon-Fri 14.00-17.00 (closed on Saturday)

't Spoortje

Address: Bernhardkade 38, 2316 RX Leiden
Tel. 071 5221695
Email: spoortje@BplusC.nl

Open: Mon-Fri 13.30-17.00 (closed on Saturday)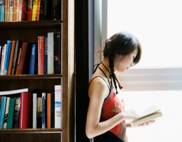 The new improved library and centre for art and culture is really great: I myself have only recently realised how much there was on offer at the Central library. It is a real oasis of calm, and offers a great place for a break from the children - especially if you have childcare at home and need somewhere to escape to for a bit of peace! Work by local artists is also on display, and there are frequently events: check What's On this Week for details or visit the website www.BplusC.nl
Naturally, there are a very wide range of books in Dutch, but also a good selection of novels in many other languages (including an entire room of English-language novels). In the newspaper room there are daily newspapers, including Le Monde , The Times and Herald Tribune . These newspapers (or a book of course) can be taken with you to read in the utterly lovely little courtyard garden, the squishy chairs in the reading room, the café, or at any of the many desks in the quiet corners of this old building. Of course, if you have children with you, you can always set them up to read/go on the computer etc. in the children's corner and sit down with a newspaper yourself.
There is also a new facility called World News - you can now read newpapers from all over the world online, in exactly the same format as the printed edition, including pictures etc. 1000 newspapers in 39 languages from 82 countries are available, including back issues over the last 90 days. Ask for Press Display: there are two stations where this can be accessed in the library.
The library also offers a lovely quiet space for working or studying. working/studying There is a wireless internet connection if you bring your own laptop, but also lots of sparkly new computers that are free for members for one hour per day, and cost € 2,50 per hour otherwise.
| | |
| --- | --- |
| 0 - 12 | free |
| 13 - 17 | € 7,50 |
| 18 - 20 | € 19,00 |
| 21 - 64 | € 29,50 |
| 65+ | € 19,00 |
If you are on a minimum income you can receive help from the gemeente: ring Gemeente Leiden on 071 516 74 74 or visit http://gemeente.leiden.nl/loket/m/minimabeleid/ for more information.
NEW! There is a fantastic new section called 'LEESPUNT plus ' area, especially created for people learning Dutch (although in fact it has grown out of a facility for adults with literacy issues). In this nicely laid out corner, there are a wide range of books in Dutch suitable for beginners, many of which come with a CD to help you make the connection between the written and spoken word: an extremely important and tricky part of learning Dutch. There are also books with a 'Daisy-rom', which can either be read on the special computer, or if you download some special (free) software can be played on your own computer. These enable you to tailor the speed of the spoken word to your own needs, and give you more flexibility. There is also a computer with internet access on which you can do exercises on various websites: some of which you can also access at home and some of which are only available at the library, such as Learn Online and Netnieuws. The latter allows you to read (and listen to) recent news stories told in simple language and answer questions to check your comprehension. For more information about the LEESPUNT plus area, see Learning Dutch.
Particularly in the winter, the library is an absolute lifesaver for daily life with small children. There is a lovely area for children with lots of easily accessible books (including some in other languages), a sofa with a few large soft toys, small tables to read at, a computer with interactive book programmes, and a sort of Jenga set (rather bizarrely). My children certainly adore going to the library, and are particularly keen on the computer programmes - at busy times the library also becomes a great meeting point for parents, although turn-taking becomes very necessary for the desirable computer spot! Children pay no joining fee so you can borrow completely free a good range of books, reference books, CDs, DVDs etc - great for discovering who Jip and Janneke are, learning the words of those children's songs or finding out dinosaur vocabulary in Dutch!
Do remember that you can always get yourself a newspaper (as well as Dutch newspapers and magazines they have The Times, Le Monde and Herald Tribune ) or a book and take it to the children's area, just on the off-chance that they might keep themselves busy for long enough for you to read it.
You need to register at the Library in person, with a passport/driving licence and a recent proof of address (bank statement, utilities bill etc). The subscription rates are (per year):
| | |
| --- | --- |
| 0-18 | free |
| 18-21 | €19 |
| 21-65 | €29.50 |
| 65+ | €19 |
Once you have registered, you receive a card and can borrow (for 3 weeks, can then be renewed, or 6 weeks over the summer):
| | |
| --- | --- |
| All books and magazines | free |
| Sheet music | free |
| Spoken books | €0.50 |
| CDs | €0.50 |
| CD-rom | €0.50 |
| DVD | €1.50 |
| Daisy-rom | free |
If you are late in returning items, the fee per day is 0.10 per item.
For more information see www.BplusC.nl.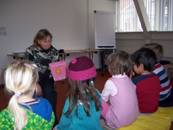 Every Wednesday, 14.00-14.30, for children aged 3-6 (or younger in fact if they are motivated).
In the central location this happens in a special room upstairs: the children sit on multicoloured cushions and the lovely volunteer lady reads in just the way that I never seem to do any more because I'm too busy doing something else. It's really excellent for the children's Dutch, especially for children who don't get it from either parent, as she reads in a really interactive way and asks lots of questions. They get a small biscuit or sweet afterwards, and generally have a lovely time. Parents can come with or stay downstairs as they prefer. We're certainly there most weeks! If you hang around in the children's area downstairs she'll come and collect you!
There are other activities, such as lunch time concerts, exhibitions and children's events - see www.bplusc.nl and click on 'agenda' for up-to-date info.